Fire performance is a visually captivating art form that is highly versatile. Suitable for both indoors and outdoors, the elemental allure of fire in the hands of our seasoned performers is sure to turn heads and add a sense of the spectacular to your occasion.
Marinated in years of training and experience, our performers come equipped with a wide range of props and performance skills. From the sublime and intricate, to big finales finishes, we can customise our performances to your tastes and requirements.
Chosen Events fire performers care about skill, presentation, flair and energy. Whether choreographed, interactive or ambient, we know the difference a great performance can make, and work hard to provide the perfect fire entertainment for you. All shows can also be enhanced with the addition of our deluxe fire options, such as pyrotechnics, ember poi, fire signs and special effect fire. We can provide a PA and floor coverings if required.

CHOREOGRAPHED SHOWS
The ultimate fire display, combining movement, music and flames in a slick and impressive package. These set pieces showcase the best of our skills and are designed to engage the audience as the main event. Some elements, such as theme and costume can be customised for your event, with shows also being enhanced through the addition of our special effects, such as pyrotechnics, ember poi and fire signs.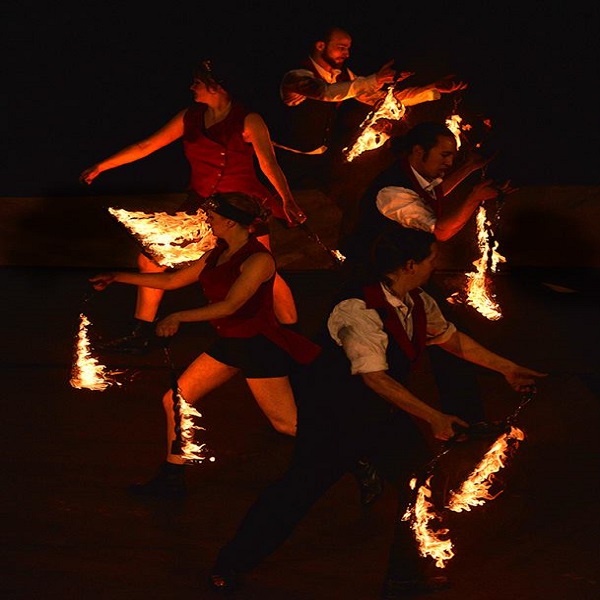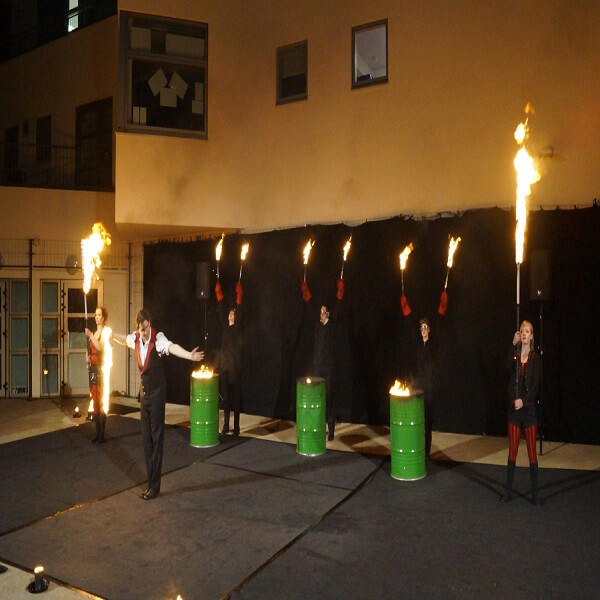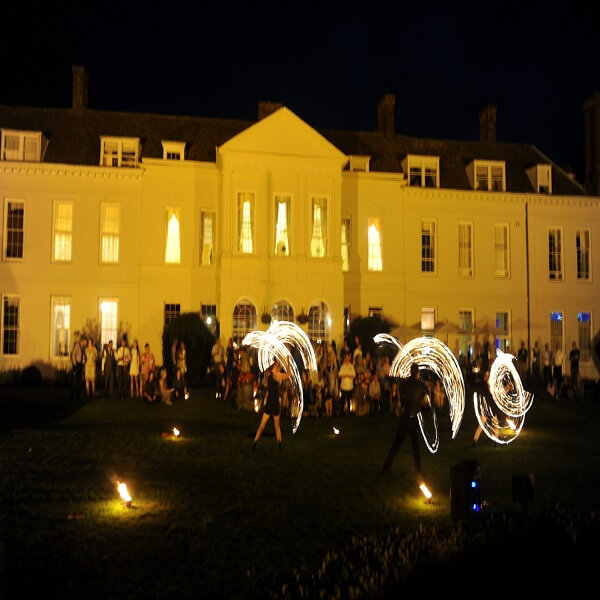 INTERACTIVE AND STREET SHOWS
These shows are about getting smiles, laughs, and applause from the audience by any means necessary. As much about the interaction between the audience and performers, as the stunts on display, our fire comperes interact with guests and make use of a wide range of props to ensure maximum enjoyment by all. Shows can also be enhanced with the addition of our pyrotechnics, ember poi and special effects.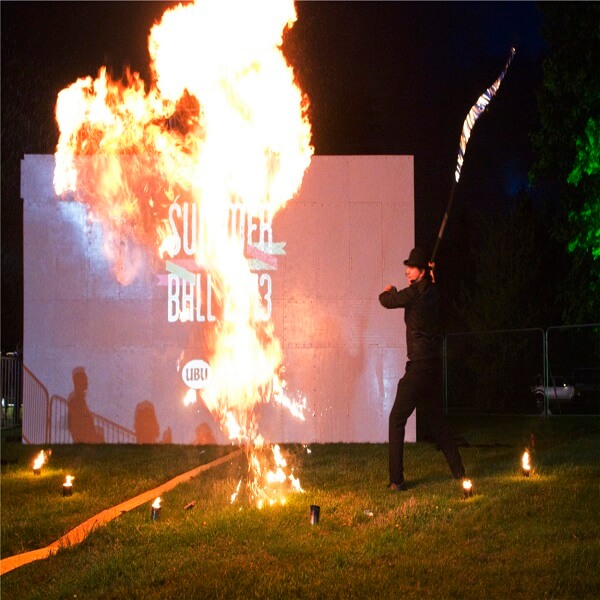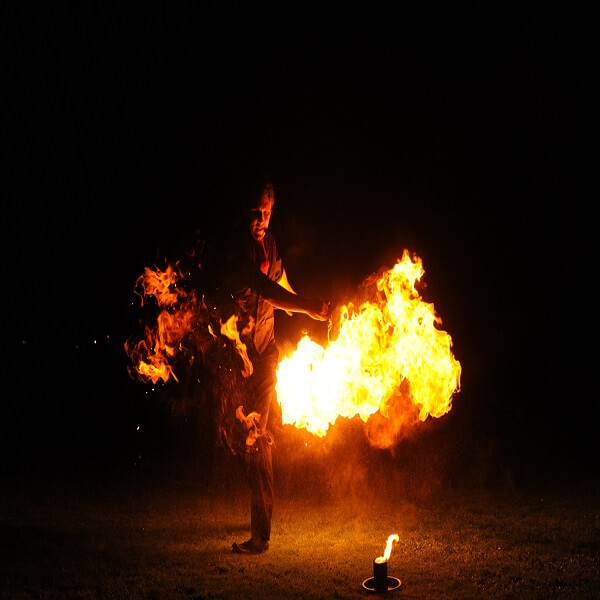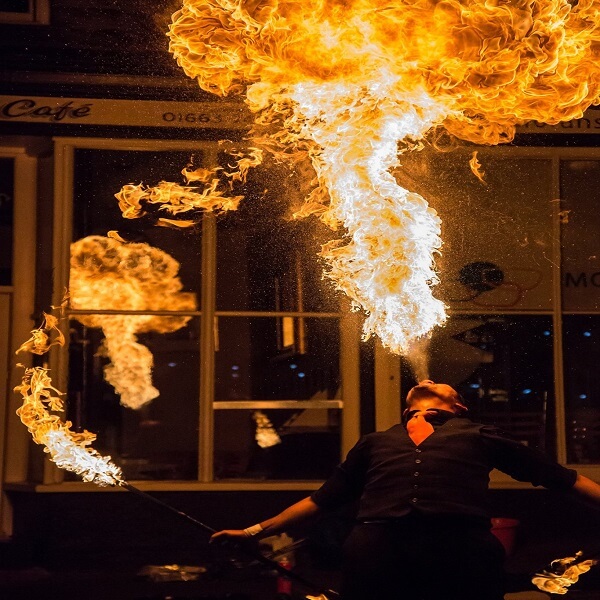 AMBIENT AND FREESTYLE PERFORMANCE
This works wonderfully as meet and greet entertainment, or on occasions where ongoing background entertainment is required. This gentle, ambient approach to fire performance is not too demanding of your guests' attention and means they can enjoy the performance for as long as they wish. Our entertainers will perform in a free-flowing manner, using multiple props, and are sure to entrance and delight.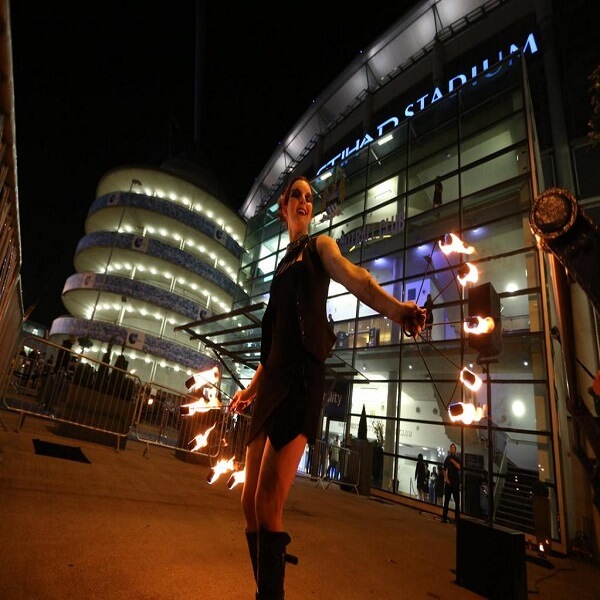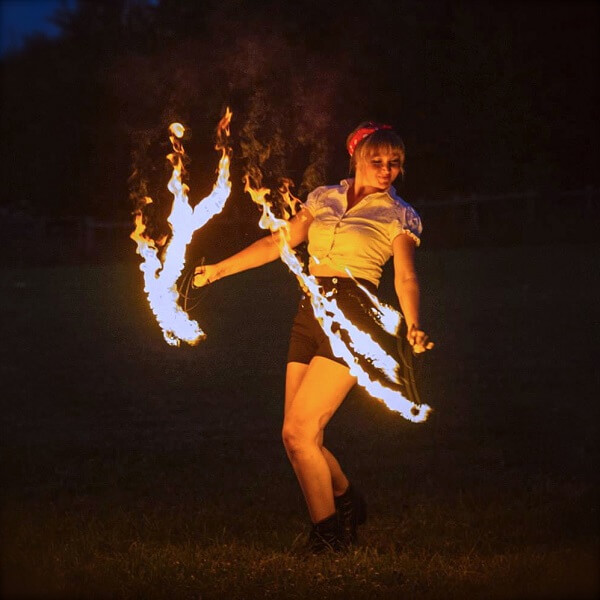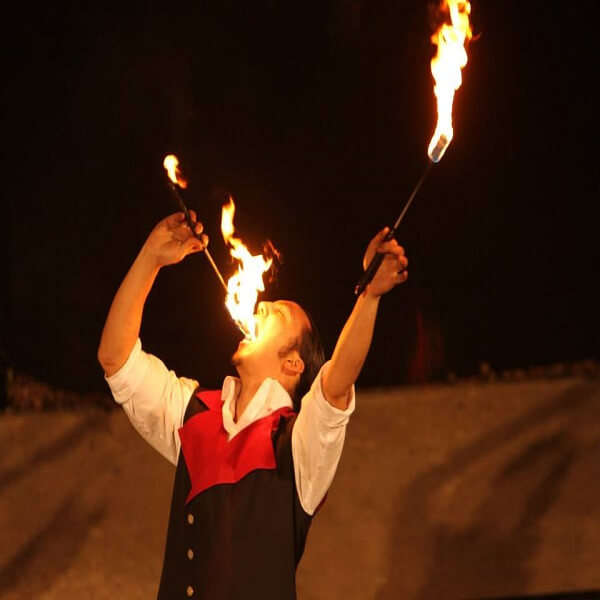 DELUXE FIRE EXTRAS:
Chosen Events deluxe effects and premium props will take your chosen fire display to the next level. Any of the specialities listed below can be combined and added into any of our shows, be it choreographed or freestyle.
Pyrotechnics - Pyro props turn our performers into human fireworks; a spectacular set piece in any performance. We have various pyrotechnic circus props, such as staffs, poi and fans that make for a fantastic flourish at the end of a show or event. Large or small, our pyrotechnics are suitable for indoor use, and we are also providing stage pyrotechnics.
Coal Performance - Showers and trails of glowing particles that float and dance in the air around the performer; a rare effect with a sublime beauty, and something that your guests are unlikely to have ever seen before.
Fire Signs/Sculptures - Further celebrate any occasion with a special fire sign or sculpture, designed to your specification. These can be ignited during any of our shows, or at a point during your event as a separate piece.
Special Effects - You think you know fire? Think again. Our fire performance can be turned up to eleven with the addition of more sparks, fireballs and coloured flame.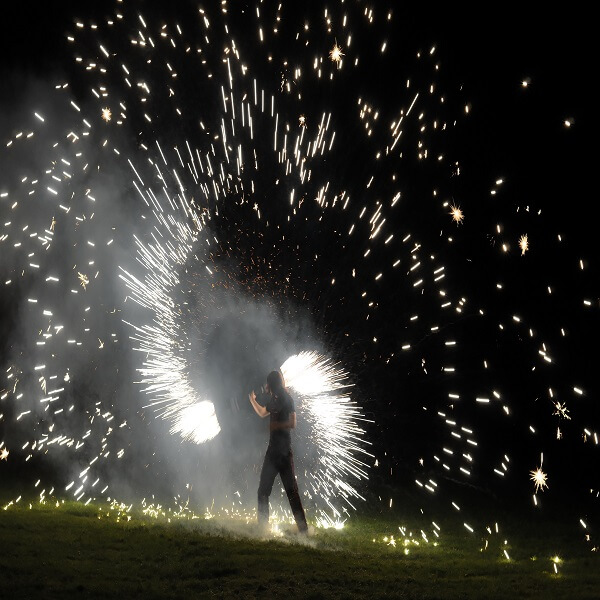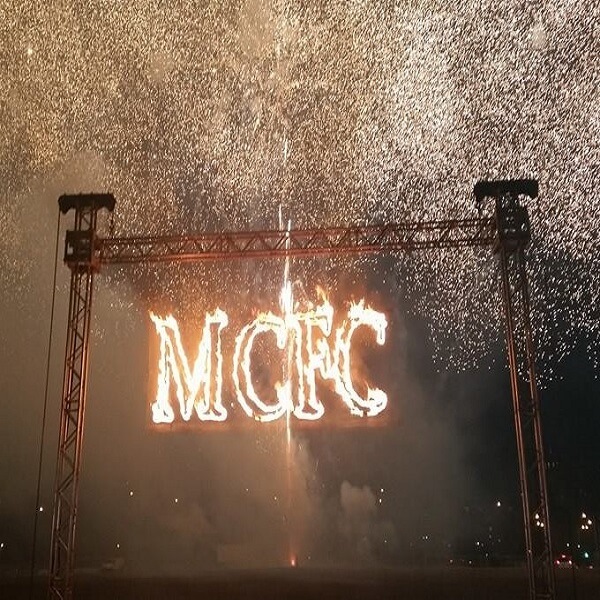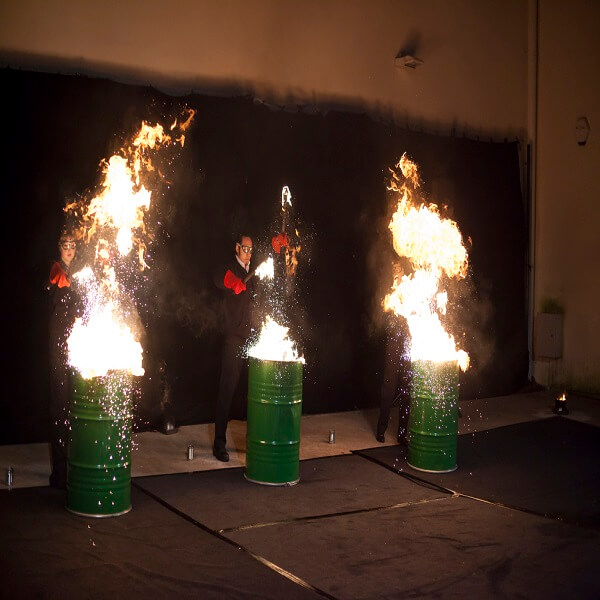 PLEASE NOTE: We recommend a minimum of 2 performers or more for the best performances. Music can be provided but is NOT supplied as standard. Please specify if music is required when you make your enquiry.
Not all fire performers perform all disciplines (e.g. not all performers breathe fire). Please specify which types of performance you require when making your enquiry.
INDOOR PERFORMANCE AREA SPECIFICATION
To ensure all performances are as safe as possible, venues for our indoor fire performances must meet the following specification:
Ceiling Clearance - 4 meters (this includes distance from any hanging lights or fittings)
Audience Clearance - 2 meters
Ventilation - Area must be actively ventilated
Furnishing - All furniture and drapes must be removed from the performance area
Performance Surface - Performance area must have a clean, non-carpeted floor
Water - Tap water should be available for us with our safety equipment
RESTRICTED PERFORMANCE
If your venue is lacking in any of these criteria, please get in contact as we may still be able to perform by restricting the type of acts available.
SITE VISIT
All venues are different, for this reason, we may require photos of the performance area or in some cases a site visit to assess the suitability of the venue.
STANDARD LENGTH OF PERFORMANCE
Ambient and Freestyle Performance - 3 x 30 minutes sets to be taken within a 3 hour period.
Choreographed Stage Performance - 7 -15 minutes depending on the show booked.

GREAT FOR…
Corporate Events
Weddings
Festivals
Private Parties
Christmas Parties
Sporting Events
Theme Parties
Bar and Bat Mitzvahs
and much more…